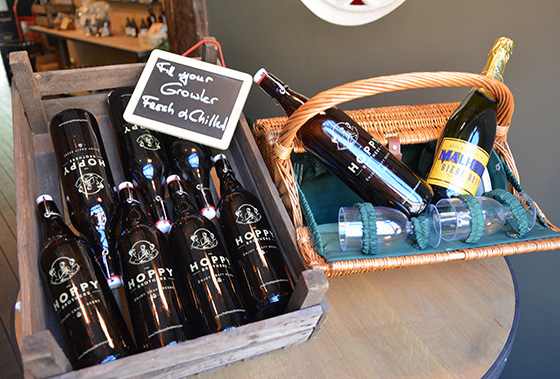 We're beer lovers, just like you. It's this passion for finely crafted beer that helped us develop a vision for craft beer that extends beyond the industry's status quo. Here's a brief overview of what we offer and how we intend to share it with others who appreciate the finer aspects of an excellent craft beer.
The Craft Beer
There has been a significant shift in the beer industry over the past two decades. Increasing numbers of micro-breweries are opening around the world to meet the rising consumer demand for craft beer. While more beer enthusiasts are actively seeking to discover micro-brewery and artisan beer, distribution has continued to lag behind.
Craft Beer Ventures was established to allow those who admire a well-crafted beer to have access to them.
Witnessing the Bottleneck
With a new market that's growing as fast as this one, it's inevitable that challenges will arise. As avid craft beer enthusiasts, the founders of Craft Beer Ventures observed distribution as the main bottleneck to access for some of the finest craft and artisan beers in the world. Many of these small, independent microbreweries have limited distribution channels. Most of them would only be able to sell within their local region unless they managed to convince a distributor to begin delivering their beer to outside retailers. That doesn't happen often. In most cases, existing distributors focus on volume, which means the small micro-breweries simply can't compete with the mass-market beer brands. Overcoming this is what helped create Craft Beer Ventures.
Finding the Opener
At the end of every finely crafted bottle of beer is a cap. Some of these will 'twist' off while others need an opener to 'pop' them off. In order to 'open' up the craft beer market, helping those micro-breweries and artisans of this incredible and timeless tradition, it was necessary for someone to step up and find practical, sensible solutions. Craft Beer Ventures envisions the future of food and beverage to lie in craft-style and high-quality, organic ingredients. Currently mass production focuses on keeping costs down, and it sacrifices quality and taste as a result.
Consumers demand more.
Consumers' focus has been shifting during the past couple of decades, as evidenced by a downward trend for the industrial production brands and increased demand for craft beer. In fact, since 1990, the craft beer industry has grown by 16.4% while the overall volume change for the entire beer industry has declined by 2.0%. Craft Beer Ventures supports this craft beer revolution by helping consumers sample a broader range of flavors, artisans, and craftsmanship that makes small breweries so important to the entire industry. Allowing these small craft breweries to gain access to a wider market, it will inspire even more artisans -men and women who take to these endeavors simply for the love they have for beer- to reach out to a wider audience. We help to add value to the distribution models that are currently in place. By adding value, it provides more opportunities and incentives for distributors to reach retail markets. It also boosts accessibility to small breweries for their potential consumers.
How We Accomplish This
Craft Beer Ventures has developed a strong e-commerce platform that has made hundreds of craft beers available to a growing market base. By bridging the gap between consumers and micro-breweries, it opens up a wider breadth of possibilities for each and every artisan, and especially every single consumer. We have also launched a chain of retail stores that specialize only in craft beer. This provides a great base for beer lovers to sample a wider range of flavors, avoiding the clutter commonly caused by mass produced beer brands. Distribution has become a cornerstone to our success as we continue to develop a larger network to help deliver the finest craft beers to a wider audience around the world.
Creating Communities
Craft Beer Ventures also believes in providing consumers and brewers a platform upon which to interact. By building these communities, it shall strengthen a growing industry, branching out and encouraging more demand which will, in turn, open up the bottleneck even more. We believe the more consumers know about craft beers, the more they'll want to discover new beers, new tastes. The Hoppy Hour website was created to achieve this through numerous blogs, testimonials, and relevant information about craft beer. There are amazing flavors all around the world and Craft Beer Ventures has just popped the cap to help release and make them available to every single craft beer enthusiast, in the United States, Europe, Japan, and anywhere else they live.
Our mission
Our mission is to provide micro-breweries with broader access to the growing market of consumers, to offer consumers the opportunity to discover and enjoy the full complement of craft beer and flavors being created around the world. We envision a world that has full access to the exceptional craft beers only locals have had in years past. A world with an open market will provide even more exceptional tastes for generations to come. Through the activities described above, we believe that Craft Beer Ventures are well on their way to realizing this vision.